IF THIS IS YOUR FIRST COMPETITION OR FIRST TIME AT ARTHUR…
First… if you have ANY questions…ask! About rules or procedures, about cooking ideas, about our Arthur contest. Ask us by phone or email, or visit any Illinois BBQ contest and ask any cook team. BBQ folks are THE most helpful and friendly people anywhere. They will tell you everything about BBQ and competitions but their secret ingredient.
Second – CIBR  Rules Overview – All KCBS standard rules will govern this event!. Copies of the full KCBS rules are available online at the KCBS websiteVisit the site and download a copy. Read these rules even if they have a older date. They have not change significantly
Link to KCBS website & KCBS Rules
Key points summarized – call or email if you have questions.
–Cooking must be done on site over wood, wood pellets or charcoal. No open pits or holes are allowed. Fires may not be built on the ground.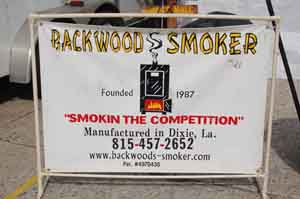 –All local health department codes must be adhered to. No precooking or pre-preparation of meats will be allowed. All meat must be inspected by the CIBR-BBQ Official Meat Inspector prior to all preparation. All meat must start out raw. The health department requires that all meats must be held on ice or refrigeration at 40 degrees or less before being cooked and after cooking all meats must be maintained at a minimum temperature of 140 degrees.  Tip-  Don't undercook your chicken entries. Judges are allowed to DQ an entry they deem "too rare" and this is not uncommon with cooks trying not to dry out their chicken breasts.
–One competition entry per team per category with the standard entry fee.  Additional entries at judging time will not be accepted.
–Contestants must provide all needed equipment. Charcoal will be available for purchase.
–KCBS Judging times will begin on Saturday at Noon for Chicken, 12:30 for Ribs,  1pm for Pork Shoulder and 1:30 for brisket (with +/- 5 minutes exactly allowed i.e. turn ins will only be accepted from 11:55: to 12:05:00 on the official clock  for chicken and etc.)Judging will be blind. (Thrill of the Grill turn in times are 2:00pm for chicken and 2:30pm for ribs)
–Entries must be submitted to judging area in the numbered container provided by the organizers.
–Entries will be scored in the areas of appearance, tenderness/texture, and taste. The scoring system will be based on KCBS procedures.
–Garnish will be limited as per KCBS procedures. Side sauces will not be allowed. Meats may be presented with or without sauce applied to it (i.e. wet or dry) as a contestant wishes.
–Copies of the KCBS Rules and procedures are available upon request and will be reviewed at the cooks meeting on Friday evening.
–Grand Champion Bragging Rights and prize will be awarded based on the combined scores of the 4 main categories only. Ancillary contest awards will not contribute to the Grand Champion award.
General Arthur Issues
We always hope to have space for last minute teams up . We reached our capacity in years past and had to turn teams away, so call us in any case but try not to wait to the last minute. Prior participation does not guarantee competition space!
The CIBR is held in downtown Arthur, close to shopping, restaurants and bars and our well stocked IGA. We have plenty to see and do in the area for any non cooks in your party or if you wish to come early or stay late. We have some teams come in as early as Wednesday and some that Stay until Sunday Afternoon. If you plan to come early or stay late, let us know we can locate you in areas that will be more out of the way for regular downtown traffic. We have hot showers available at Jurgens Park, about 4 blocks south of downtown, and 24 hour indoor restrooms downtown for cook teams (especially the womenfolk.)
Setup is on streets and parking lots so in most areas you can not have tents or popup STAKED down… bring weights.
Alcohol is generally permitted in your campsites as long as things do not get out of hand. You are not allowed to roam around the downtown with open or visible alcohol.
Campfires must be in elevated firepits… not on the street or parking surfaces. And Cleaned up afterwards. All Ash needs to go into the marked ash cans
We provide specially marked containers for ash disposal. Please use them Only and if they are located near your camp, PLEASE try to help us keep beer cans, trash or other food stuff out of them.
Bring extensions cords and water hoses. Both should be available close by, but not exactly to your cook site. Usually 50-100 feet.
When you arrive, pull over somewhere in downtown or if the streets are closed already, stop near the barricades and hunt us down. Any cook team or vendor will point us out or head towards the BBQ headquarters behind the Gazebo Parking lot on Vine St. When you find one of us, we'll get you someone to help you get moved into you spot. We do not assign spaces ahead of time but deal with each as they arrive. If you wish to be located next to or near another team, let us know when the first of your group arrives. Usually we can work that out without problems.
 Thrill-of-the-Grill Competition
This competition is open to anyone that enjoys grilling in the backyard. You do not have to buy a lot of meat to enter… just chicken and ribs, you do not have to cook all night… just a couple of hours as you might on a Sunday afternoon, and you don't need a big fancy smoker to work on. In fact we had a team in 2008 that packed everything up in motorcycle saddlebags including their tents, meats, and cookers, if you could call them that, you would have had to see them, and they did well in the competition. More details on our Thrill page. Check it out.
Any grill, any fire, any method. Ribs and chicken only, turn-ins at 2pm and 2:30 pm so you can drive down Saturday morning and get cooking
Additional contest information, questions, ideas, criticism or suggestions:  George Fritz, event chairman, 217-543-2181 ( bbq@arthuril.com)