The Thrill of the Grill – Competition BBQ for everyone!
More $ – $1150 Cash Prizes
Saturday October 13, 2018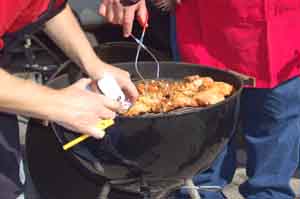 You do not need any fancy equipment… just your backyard grill or smoker and a little cooking skill. If you have every wanted to try competition BBQ but are not up to the task of 4 perfectly cooked meats 30 minutes apart, try the CIBR Thrill-of-the-Grill. Just two meats, you don't have to cook them all night, and you can probably get all your equipment into the trunk of your car. In fact our "thrill" area is more like a block party cookout than a competition. Everyone has fun, exchanges a few tips and ideas, gets the feel for the full scale competition, can check over some of the big boys equipment, and a few go home with some bragging rights.
Two categories, cook them both. Pork Ribs and Chicken (any part of the chicken-usually thighs, upper wings or breasts, probably not necks or gizzards but hey…)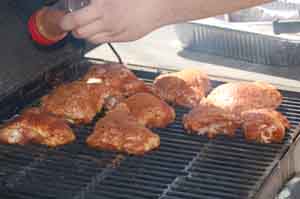 cook them the way you like them, dry rubbed, mopped, just plain grilled, sauced or however.
Register Early – I guarantee we will turn teams away in September! We are increasing the prize money available in the Thrill competition totals to $1150 with 1 thru 5th place in each category paying $150, $100, $75, $50 and $25 plus $250 for the highest combine totals and $100 for the runner-up combined from both categories.
BYO everything, no electricity is provided or is very limited and shared. ( if you wish electricity for overnight plan on bringing a generator), water will be available nearby, but not provided to your cook space – bring buckets or a hose for cleanup and sanitation.  We will check in your meat when you arrive. It must be iced, and raw (i.e. not marinated, injected or pre-rubbed until after you check in. If you must cure your meat longer, come down on Friday, check in early and you may start anytime after being checked in.) As for equipment… Most teams will bring a small grill or smoker of some kind, a popup tent, maybe a small table to prepare their meat and fix their turn-in boxes on, some utensils, some lawn chairs, snacks and cooler full of refreshments.
Arrive in Arthur at any time, as early as Friday morning and spend the evening in Arthur. If you plan to arrive Saturday morning, try to be here early as things get hectic by 9am. As long as you can be here in Arthur by 9am or so on Saturday to start your fire, you can easily get in the game. Park right where you cook, kind of like a tailgate.
Most Backyard teams will be placed together and use 2 adjacent parking spaces on Hickory Street just East of Vine St on the North end of Downtown. That is about 20×20 ft. Room for one vehicle and a 10×10 tent for cooking and etc. If you wish a larger space or plan to bring a camper or trailer, you may be assigned spaces in other areas. Again electricity will probably not be available there so plan to BYO.
Your meats must be in store wrapping as purchased and on ice when you check in. Do not pre-soak, brine or marinate. This will be checked by us when you check in here in Arthur.
Visit the KCBS website for detailed judging rules and procedures. With the exception of 1. the four meats required by KCBS will be only ribs and chicken in our competition, 2. we allow gas BBQ grills to be used, and 3. our turn-in times are  2pm for chicken and 2:30pm for ribs, this is what we'll go by. Read carefully the section on garnish and added sauces. We will provide a numbered, plain, undivided 9″x9″ styro foam trays for you to turn in your entries. You may decorate your entr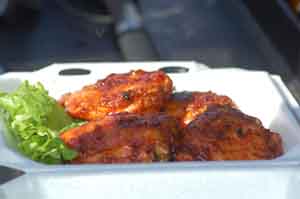 y with green leaf lettuce or parsley only! You may submit your entry wet or dry as you like it. No pooled or additional cups of sauce. You will need to submit at least 6 separate portions (there will be 6 judges scoring your individual entry meat – each must get a separate portion – they will not cut or pull apart your entry) in each category to be judged. Cook a few extra!  If you can attractively arrange an extra 7th portion in your entry container it might be helpful, but is not required (plus the management always appreciates a bite!). We will go over all of this with you when you check in also.
If you have any questions on rules, our event or questions in general, we'll be more than happy to talk or email things out and help you get in the game.
If you like to grill chicken or ribs, give this a try. This contest is for the every day guy or gal… NOT for the pros… you will fit in with any kind of grill! In fact in 2008 two guys did well with grill composed of four aluminum turkey pans and a beer can smokestack all packed into a motorcycle saddlebag.
And unless you just charcoal your entry to death, you'll have a good chance at some bragging rights, a little cash and you'll have a lot of fun!