Arthur Illinois – October 12-13, 2018
KCBS COMPETITION BARBEQUE AND BLUEGRASS
Arthur is Central Champaign, Decatur and Mattoon Illinois in East Central Illinois.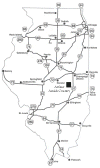 We're about in the middle of the Illinois north-south and about one quarter of the way over from the Indiana side. Follow Interstate 57 south out of Chicago about 3 hours to Exit 202 at Arcola, then head west 9 miles on St Rt 133 to Arthur, or Interstate 70 east from St Louis or west from Indianapolis to Effingham then I57 north to Exit 202 Arcola.
About 2 and a half hours from St Louis or Indy, and 3 hours from downtown Chicago.
Google map zip code 61911
Downtown Arthur
CONTEST LOCATION AND LAYOUT
If you arrive in Arthur early, just find a place to park and hunt us down. Our store is the Wood Loft, downtown on the corner of Illinois and Vine Sts. We'll set you up in a location for the weekend. If you come in on Friday , as most do, the downtown should be closed off to traffic. Pull over before the barricades and look for us somewhere inside them. We'll probably be helping someone who arrived just before you, and we'll point you to the next available spot.
ALL Thrill-of-the-Grill teams will be set up on the North East area around the Visitors Information Center so head over to that and then come find us at the BBQ Headquarters.
If this is your first year at the CIBR-BBQ… a few location points. The contest is on the streets and parking lots downtown – hard surfaces, no stakes. We have plenty of room for your rig and cooking equipment together. If you bring multiple vehicles, additional vehicles may be asked to be parks a bit away after you unload, but your main vehicles, cookers, prep tent should be no problem. We have a few areas that are grassed where you can pitch a tent if you wish.
Electricity and water are provided, fairly close to all areas, but bring an extension cord and water hose and splitter if possible.