We need a few good vendors for BBQ sales every Year.
We have openings 2-3 additional / replacement vendors each year. We will only have 8 main meat Vendors Total. Main BBQ vendors must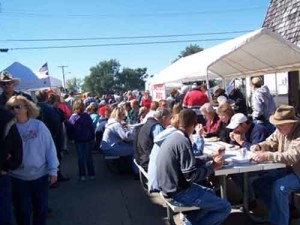 agree to a $200 minimum vendor fee if you plan to sell meat products (against 10% of gross sales) with their application. We will visit each vendor on Saturday afternoon to settle up. Based on prior years experience, we expect good BBQ vendors to exceed this minimum. Vendors are allowed at least 50 feet in length for your space. In that space you may include your cookers or add seating or special decorations if you wish.
New food vendors will not be allowed to set up without prepayment or CC confirmation of the minimum $200.  We locate all Main BBQ vendors together in a BBQ Food Court Setting with picnic table provided by the city.
We have a good crowd on Saturday for craft and misc vendors also. Additionally we will consider other specialty food vendors such as dessert, ice creams, etc. We will not accept other sandwiches or other meat styles. Please check our online misc. vendor application for details.
If registered teams would like to sell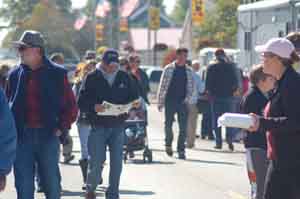 food products, sauces, smokers etc, it will be allowed under our guidelines (please let us know) and we will promote that aspect of the event heavily at a later date.
We expect 5000+ visitors.
On line Vendor applications will be available here soon.
Moultrie County Health Dept permits
Let us know your interest and we'll get back to you with details and costs.
[easy_contact_forms fid=5]