Sponsor Opportunities
We invite you to tap into the sales and marketing potential of this October event by becoming an Official Sponsor of the Central Illinois Bragging Rights BBQ Cook-off in Arthur, IL.
You may know Arthur, Illinois, as the center of the Illinois Amish community, or as one of Central Illinois' major travel and tourism attractions. You may know Arthur, Illinois, for one of its numerous successful events held throughout the year such as The Amish Country Cheese Festival, which has drawn in excess of 20,000 people each year for over 25 years. Arthur, Illinois, is now known on the competition BBQ circuit for the CIBR-BBQ every October. Barbeque competition is big and growing rapidly. Bluegrass jams are very popular musical entertainment venues. Together, they make an exciting opportunity for an event!
Our CIBR-BBQ KCBS event is a big success with great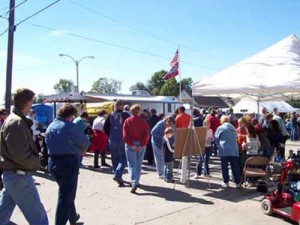 BBQ and bluegrass pickers filling the streets of downtown Arthur. Each year we have KCBS competition teams from all over the Midwest representing more than 11 states and many prior championship competition winners. We anticipate more than 50 teams from around the Midwest will compete in this year's KCBS sanctioned BBQ contest and compete for over $14,000 in cash prizes and the Bragging Rights to the Best BBQ in Central Illinois. Every year we attracted over 7500 spectators to this 1 day event. Most attendance is packed into one busy day on Saturday. We are working on expanding the event for more coverage on Friday this year.
Our Thrill of the Grill Backyard Competition-In addition to the traveling KCBS teams we also invite more local BBQ fans to compete in a separate "Backyard BBQ" competition. This event is aimed at the everyman and has great value in marketing to a broad audience of cooking enthusiasts calling Central Illinois home.
In keeping with Arthur's Family Friendly atmosphere, the CIBR-BBQ includes something for everyone in the family. Games and rides for the kids, craft vendors and lots of unique downtown shopping, and plenty of good BBQ to eat.
Your Involvement- Looking at this as an Illinois "local" competition in our Thrill of the Grill event or as a regional competition and sanctioned by the KCBS, the CIBR-BBQ is a great opportunity to increase your brand and product awareness in Illinois.

As a community event the CIBR-BBQ and Bluegrass event is a perfect opportunity to showcase businesses of all sizes from anywhere in Central Illinois. Strong event advertising is planned for central Illinois newspaper and television markets including the Champaign, Decatur, Springfield, Mattoon, Charleston, and Effingham, as well as year long website and calendar of event listings. Event brochures noting all sponsors will be included in all mailings by the Amish Country Visitors Bureau, and will be distributed by numerous area information centers. Event follow-up coverage will be arranged in all markets represented by competitors, winners and sponsors.
If you have a market that we can help you reach we welcome your involvement in our BBQ weekend. Visit our Sponsorship Opportunity Levels page for ideas on some of types and sizes of existing sponsors levels. If you have another idea on how you might wish to be involved, we are most open to exploring it.
For additional information, questions or ideas, or to schedule a personal meeting, please contact George Fritz, CIBR-BBQ Event Chairman, at 217-543-2181 or email me atbbq@arthuril.com