KCBS Competition
Standard 4 KCBS meat categories – KCBS Rules and Guidelines will apply. This is a KCBS sanctioned event. Combining the four standard KCBS meat categories we will award:

Payouts in 2018
$1500 Grand Champion
$750 Reserve Grand Champion
$500 3rd Overall
$250 4th Overall
$100 5th Overall


Plus 10 places in each category will pay!

We will also pay higher category awards in many categories than prior years and pay down to 10th place!  In each KCBS category, the top category award will be $500. $12,000 or more will be returned in cash prizes. We will limit entries to 55 teams. DO NOT WAIT UNTIL OCTOBER TO REGISTER! WE HAD TO TURN TEAMS AWAY IN THE PAST WITH ABOUT HALF THE PRIZE MONEY.
Ancillary KCBS Comps – we may add or modify this a bit as we get closer of gather additional sponsors.
Free Competitions – Sausage, Sauce, Side Dish and Dessert Open to any Registered KCBS team. These events will be judges by the CIBR-BBQ committee staff or other trained judges, but not as a "KCBS" event. All entry materials, plates bowls etc, that you want back must be picked up by the teams before leaving Arthur.
Prizes will be 1st, 2nd, 3rd – $100, $75, and $50 overall in each In each category.
When we speak of eye appeal or presentation, we will not add or subtract based on the number of observable servings as in standard KCBS meat events. The judges will cut tasting portions if necessary. If multiple, separate portions aid your presentation visually go for it.
BBQ Sauce – 5:30-5:45pm turn-in – A fun and easy competition, again, we will ask for approx. 6 oz of your sauce entry, we will provide styro cups with lids. Entries will be judged by themselves (not with meat) by groups of 6 judges with one score combining taste, texture and eye appeal. Presentation will be standardized across all entries and will not affect your scores. There will be no restrictions on your entries other than that I do not get sick from eating them (that will result in a delayed DQ.) They do not have to be made on site. Anything goes. Last year we had close to 40 entries and very few tasted like straight KC Masterpiece.
Sausage – 5:30-5:45pm turn-in -Again, anything goes here. homemade or hybrids, sauced or not (no pooling or marking), links, fatties, or patties. We'll provide a standard Styrofoam tray, add standard KCBS garnish only if you wish, we will score 50% presentation/appearance and 50% taste/mouth appeal. Sausage may be store bought or home made, but must be cooked on site over a wood or smoke fire. Present wet or dry, no marking or pooling. Again we will judge this by groups of judges similar to KCBS judging
Side Dish – turn-in time 6-6:15pm – Again, as in the past we will judge your side entries based on the combined scoring of 50% appearance/presentation and 50% taste/mouth appeal. The entries must be created on site, must include some wood fired cooking of some kind, and must include an item of the cucurbit family (pumpkins, gourds, or squashes) in some fashion in the of the entry.
Dessert – Turn In 6-6:15pm  – As in the past we will judge your dessert entries based on the combined scoring of 50% appearance/presentation and 50% taste/mouth appeal. The entries must be created on site, must include some wood fired cooking of some kind, and must include apples in some fashion.
General KCBS Event details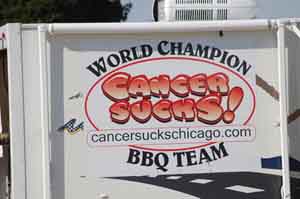 Each Competing Team may enter one item in each category  and is included in the initial entry fee.  Additional entries at judging time will not be accepted.  All KCBS standard rules will govern this event! Copies of the full KCBS rules are elsewhere on this site and also available on the KCBS website and we will assume you are familiar with them.
We will provide cooking space, an adjacent parking space, and electricity and water within a reasonable distance to each site, for each team, General Arrival/setup 7am-10pm Friday Oct 9. We are planning for one main team vehicle, one main (trailer sized) cooker, and a pop-up prep tent per team. Need significantly more or less, or something unusual, let me know ahead or we can juggle things when you arrive. (We had plenty of electricity last year, water seemed to go well so we should be set for 2015) Early or Late arrivals are fine, again, let me know. If you want to arrive a day or so earlier and enjoy Amish Country for a while, again just let me know. If you want to be located near friends or specific other teams… let me know or have the first to arrive in your group advise who else we might need to save some space for. We'll try to accommodate. Since rigs change year to year or even as the competition season progresses, we will work on setup details as you arrive. Depending on your vehicle and cooker or prep tent, we will work with you for your best layout before we put your neighbor into place. You can keep your main travel or tow vehicle, cooker,  and supply trailer or work tent in your competition space. If you have additional vehicles we ask them to be parked elsewhere (not farther than a half block.)
Space arrangements will be made as you arrive. We have ample space and will try to comfortably accommodate all requests.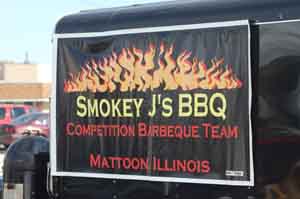 The judging HQ will stay focused on cook teams and the Friday comps.
In all of this extra stuff, we try to keep first in mind the concerns and needs of you as a KCBS competition team and promise to work to keep outside interferences at a minimum. However, our intentions are to also promote the event for the general public to experience, enjoy, and learn more about real BBQ.
The competition area will be on hard surfaces, in downtown Arthur, convenient to shopping, restaurants, bars, etc.
Additional contest information, questions, ideas, criticism or suggestions:  George Fritz, event chairman,  217-543-2766 ( bbq@arthuril.com)