Arthur Illinois - October 10-11, 2014
More Prizes - Higher Payouts

Same time, Same place. The weekend after the Royal 50+ great KCBS BBQ teams will again gather in downtown Arthur Illinois. We won't change much of the format, as things have gone well for the past few years. We're upping the top prize to $2000 to the overall grand champion plus $1000 to the runner-up and pay the top 15 places in each category for 2014!. Check out the Competition Details pages for exact event details, and times and then mark your calendars and get your entry form filled in and sent off.
We ONLY have room for 55 teams, so send us your online application as late early as possible to be sure to be included.
This past October 2013, we had over 50 KCBS teams, 25 backyard teams and great weather, combining to bring more than 5000 visitors to Arthur for the weekend. The link above will take you the scores for all events and I have uploaded a bunch of photos to Flicker if you wish to see some of our contest. www.flicker.com search people=cibrbbq@yahoo.com. These photos are compliments of Terry Young of Springfield. His web and more photos are at www.tjphoto63.smugmug.com
New to KCBS or competition BBQ? Each year we get a number of teams just getting their feet wet in BBQ and we're ready to help. Give us a call or drop us an email and we will try to make your participation easier ( short of giving you our best recipes. )
And...
Thrill-of-the-Grill Backyard BBQ Competition
If you want to get your ribs wet but are not sure of the effort or expense in full KCBS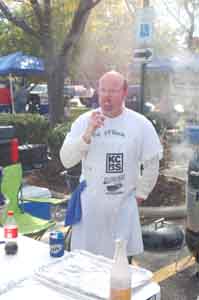 competition, our Thrill-of-the-Grill Competition is for you. Bring any grill you have, some chicken and ribs, some flavorings, a couple of lawn chairs and some refreshments and show us your skills. The bbq that pleases your family just might win you some cash and bragging rights. Check the event details tab to the right and give it some thought! In this event also we have plenty of room for last minute teams so make your plans and send in your online application as late as Thursday Oct 6th.
We anticipate a couple of new backyard sponsors and some significant additions to this portion of the event so check back regularly.
And...
Chet Kingery Memorial Blue Grass Jam
Chet Kingery Bluegrass Jam stays with the BBQ weekend on Saturday. Bring your guitars, mandolins and banjos and join in with the pre-jam on Friday night and all day Saturday. on Saturday, Jammers will have special locations made available to them all over downtown, and, we expect, they will add their own choices of locations on top of those, depending on sun, wind and weather.
Bring the Whole Family -We always plan for well over 5000 visitors to drop in on Saturday to check out the cookers and the big rigs, and also to enjoy some fine 'Q. We'll have plenty of BBQ of all kinds for sale from award winning competition teams, as well as some great toe-tapping bluegrass music to listen to. Bring the kids, as we also have a special area set up for their enjoyment.
Central Illinois Bragging Rights BBQ - Arthur Illinois - Second weekend in October